Buy or Lease a New Ram 2500 in Richfield, UT
 The New Ram 2500 Charges into Hard Work
Don't expect the new Ram 2500 to leave you when the job gets tough. Buyers can depend on this truck staying true to its name until the job is finished. Built around a durable frame that supports an impressive powertrain setup, the new Ram 2500 is as rugged as they come. Combined with an attitude to conquer and a drivetrain that hits hard, the new Ram 2500 is truly capable of completing any job thrown at it in the Gunnison area.
All too often trucks that are highly capable and performance-driven are expected to be basic and bare-bones. Shockingly, despite its power and capability, the new Ram 2500 is stylishly modern and features many modern amenities. Strong lines grace the body of the new Ram 2500 creating a sleek profile. Chrome accents or color-matching attributes complete the contemporary appearance of this polished pickup.
Safety Matters on the Job
The Ram 2500's versatile nature as a private passenger auto with high capacity allows it to integrate the most modern and effective safety features. In a truck with this size and degree of power, maintaining safety for those within and around this truck in Sevier is essential.
Exterior
Keeping an eye on the road in front of you is crucial. An Adaptive Forward Lighting System offers some of the best lighting alongside headlamp turning technology, allowing maximum illumination.
Maintaining a safe distance from vehicles around you can help reduce the chance of having an accident. When you need it most, Forward Collision Alerts let you know when danger is near.
Heavy traffic and traffic jams can be it difficult to stay an appropriate distance from the car in front of you. Adaptive Cruise Control automatically maintains a safe distance between the Ram 2500 and other vehicles.
Staying in your own lane helps maintain traffic flow and encourage accident avoidance. The Ram's Lanesense technology helps keep you in your own lane.
Interior
Some safety features that the Ram 2500 has to offer are inherent in its design. Front, side, and overhead air bags provide ultimate crash protection for all passengers. Height adjustable seatbelts and pretensioners ensure the correct fit. Traction and stability control aide in maintaining a safe ride, even in undesirable weather conditions or traffic situations.
Interior Features and Technology
The inside of the Ram 2500 is just as impressive and eye-catching as the outside. Active noise cancellation from the frame creates a comfortable ride by minimizing road noise. A huge 12-inch touchscreen with split-screen capability is available to allow Ephraim drivers to stay in control at all times. Up to seventeen speakers are integrated throughout the cabin to provide the best experience, while SiriusXM blasts your favorite tunes.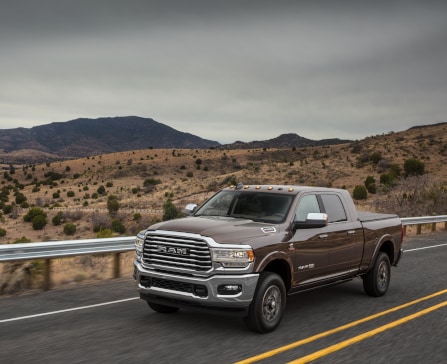 Smartphone integration that facilitates navigation features and Apple CarPlay® or Android Auto™ is strikingly convenient for both drivers and passengers. Much of the exterior is focused on offering a variety of individualized selections. Cloth and vinyl seats or leather-trimmed seats, all seat folding or left single seat folding and two interior color options are some of the most notable choice selections. 
Whether you are on the job or on vacation, ample storage space in the Ram 2500 is worthy of recognition. With a front center console that is large enough to store 15-inch laptops with ease, one can imagine the immense size of the interior compartments. Complete with a smartphone/tablet docking station and a stow-away, sliding cupholder system, the sophistication of the interior matches the detail given to the Ram 2500 exterior.
Trim Level Availability in Richfield, UT
Options are abundant for the Ram 2500 pickup. Five trim levels are available, each of which provides a certain level of customization and amenity upgrades. The five available trim levels of the Ram 2500 include:
Tradesman: Perfect for families or aspiring contractors, the Tradesman is rugged and structured.
Big Horn: Complete with three interior color schemes, the Big Horn is one of the most notable trim levels.
Laramie: Available as a 4x2 or 4x4 this model is the middlemost trim level.
Power Wagon: Performance and power are apparent in this trim level, depicted by the sporty black interior and distinctive finishes.
Laramie Longhorn: An earth-tone interior gives models with this trim level a southern edge.
Limited: This sophisticated trim comes in Crew Cab or Mega Cab setup options and is the most refined trim level available.
In addition to these trim levels, two different editions that provide unmatched individuality are offered. The Limited package makes you feel like you are always riding in first class with upscale interior features, leather seating and real wood accents. Comparatively, the Laramie Longhorn is the picture of Western heritage. Western stitching on the seats, individually crafted details with a Southwestern accent and a mountain brown leather interior provide the ultimate interior experience.
Your New Ram 2500
Whether you are interested in a new Ram 2500 or you just want to explore your pickup options, contact Classic Motors in the Beaver area today to see what we have to offer. Schedule a test drive online or call to inquire about our latest deals. The new Ram 2500 is one-of-a-kind, and we can't wait to introduce you to it.