Check Out the Ram Heavy Duty Options at Classic Motors
We at Classic Motors are very excited to work with you to find the perfect Ram model. We know that you have tough jobs that need completing, that's why we ensure that you get all the information right from the source. We are eager to tell you why the Ram lineup is one of the best in the truck world. These beasts absolutely crush the competition, and can provide you with the oomph you need to come out on top. Working with us to find the perfect Ram couldn't be any easier.
New RAM Heavyduty Truck Inventory
The Ram 2500
Starting with the Ram 2500, you'll get some of the best quality in the US. This beauty shows off with an unbelievable towing capacity of 19,780 pounds. With that kind of power, you can tow your fifth wheel to the campground without breaking a sweat. In addition, you will get a payload that will allow you to seamlessly transport your quads to the mountain. Whatever your hobby, you can trust the Ram 2500 to get you there.
This beauty is equipped with the fan favorite 6.4-liter Hemi V8 engine, giving you all the power you could possibly need. With 410 horsepower, you'll love the feeling you get when you hit the gas. In addition, you can enjoy several impressive trailering features that will help you to conquer the jobs you intend to get done.
In addition, you can also enjoy the interior of this impressive vehicle. With great materials and impressive technology, you can easily enjoy every second of every ride in the Ram 2500. This beauty also offers up with an abundance of small item storage, allowing you to easily find a spot for your phone, wallet and pocket change. We know the importance of space, and so does the Ram brand.
With several different trim levels to choose from you'll be able to make the Ram 2500 all your own. This vehicle brags plenty of impressive features to allow you to truly crush every job that comes your way. With these great trim level's you can make your vehicle the perfect match to your personality. Check out these impressive levels below:
Limited
Laramie Longhorn
Power Wagon
Laramie
Big Horn
Tradesman
The Ram 3500
This total beast is the next step up from the Ram 2500. With the Ram 3500 you can truly reach the peak of unbelievable performance. In addition to the impressive vehicle style, you'll also be able to crush the competition with a 35,100-pound towing capacity. Goose neck towing has never been easier than it is with this beast. In addition to an impressive towing capacity, you can also enjoy an unbelievable payload of 7,680 pounds with 1,000 pound feet of torque. Giving you total power is easier than ever, and we know you'll absolutely love every second of it.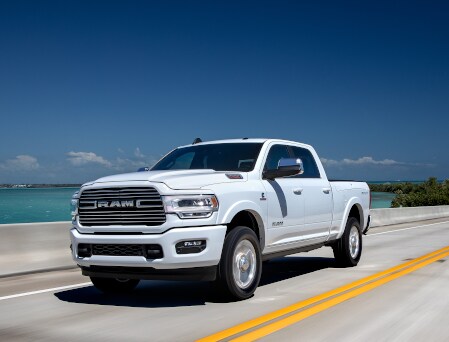 On the technology side of things, you can easily look forward to an impressive 12-inch touchscreen as an infotainment center. With this screen you can gain access to Apple CarPlay and Android Auto, both of which allow you to easily remain connected on every drive. Reaching out to friends and family has never been easier than when you utilize these impressive programs. We also love that you can access your favorite road trip music as well as the latest podcasts, all without ever taking your eyes off the road.
Trim level options are vast and will seamlessly allow you to connect with your vehicle on another level. This beauty offers up with a great deal of options, and each one can bring you closer to the Ram 3500. We know the importance of having a vehicle that meets your needs in a myriad of ways, and the Ram 3500 is excellent at that. Check out these great trim levels below:
Limited: This trim level offers up with an exclusive grille design. It also gets you 17-inch polished aluminum wheels and an impressive power side step.
Laramie Longhorn: This trim level shows off with a bit of southwestern charm. An exclusive chrome billet grille and several two-tone paint options also find their home on this trim level.
Laramie: This next trim level gives you leather trimmed seating with available suede inserts. You can also enjoy gray accent stitching, LED ambient lighting and a luxurious feel.
Big Horn: With the Big horn trim level you can fully enjoy and unbelievable amount of torque. With 1000 pound feet available, you'll find it easy to get tough jobs done.
Tradesman: This final trim level offers up with a keyless system, allowing you to get in and get going as soon as possible.
With our finance center fully equipped to walk you through the car buying process, you'll be able to make quick and smart decisions. We are happy to talk to you about the differences between leasing and buying a vehicle. We look forward to helping you through every step of the car buying process.
We at Classic Motors are happy to work with the Richfield, Sevier, Beaver, Ephraim and Gunnison, UT areas. We know that we can provide an impressive selection of vehicles as well as a great experience overall. We welcome you to come in for a test drive of either the Ram 2500 or the Ram 3500, and to ask us any unanswered questions that you may have. We look forward to working with you.